When you name your musical duo "We Are The Wilderness," you might encounter people wondering to whom the "We" in the name refers. Is the "We" just the two band members, in some private wilderness of their own devising? Or is the We an more all-inclusive collective? Are we all part of this Wilderness club?
Given that We are the Wilderness' band members Shanda Woods and Ryan Manchester (a.k.a. "Judge Shredd") both reside in Bushwick, the most obvious ways for us to answer this question would be to enjoy an evening meal with this band at Bushwick's Shinobi, a ramen joint across the street from the Pine Box Rock Shop.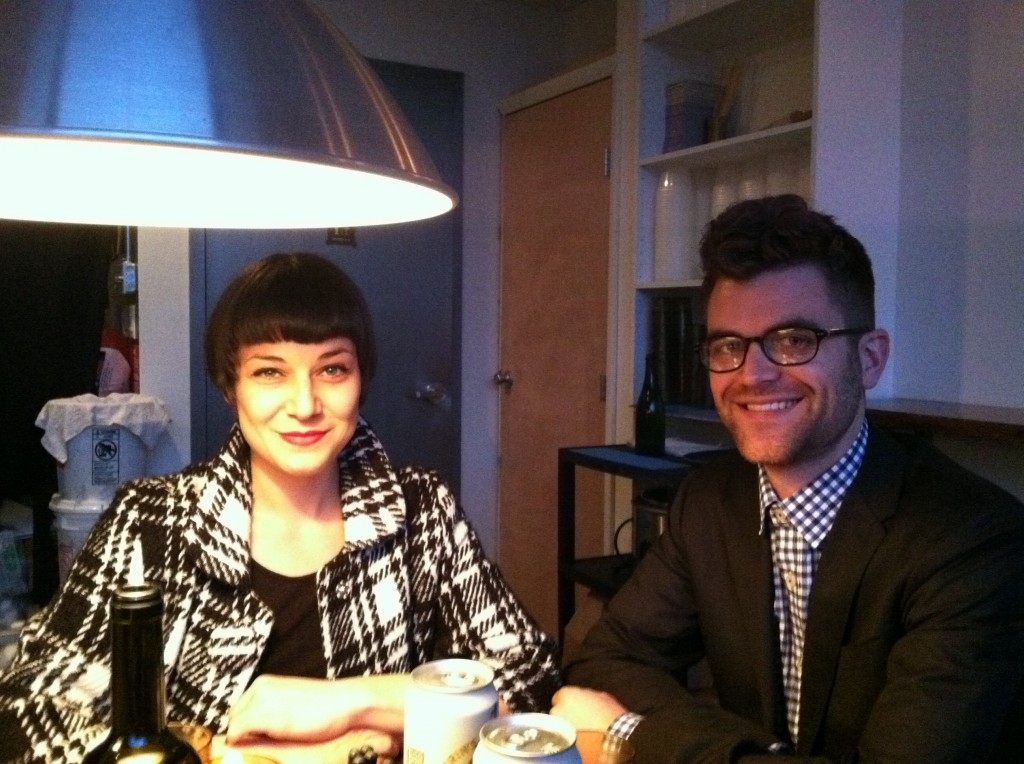 "We" is all of us, Shanda clarifies, while we wait for our food orders. The name of the band is instructional. It reminds us that, even though we may live in the city, the sharp corners of urban civilization that box us in are but a concrete veneer barely covering nature's ever-reigning chaos. We're all a bunch of animals running around in this structured environment.
Unless, of course, you asked simply to know who the We are in this band, We Are the Wilderness. Then, yes, the "We" are just the two of them. So don't bring your ukulele to their next show.
We Are The Wilderness are right in tune with today's music-frenzied youth culture! They have released their first batch of songs, bundled into an EP called "Elevation."  You can stream it on Spotify, or the ghost of Steve Jobs
will sell a copy to you
, as will
OneRPM
, at a discount, you cheap bastard.
Dig the cover that Shanda designed for the mini-album: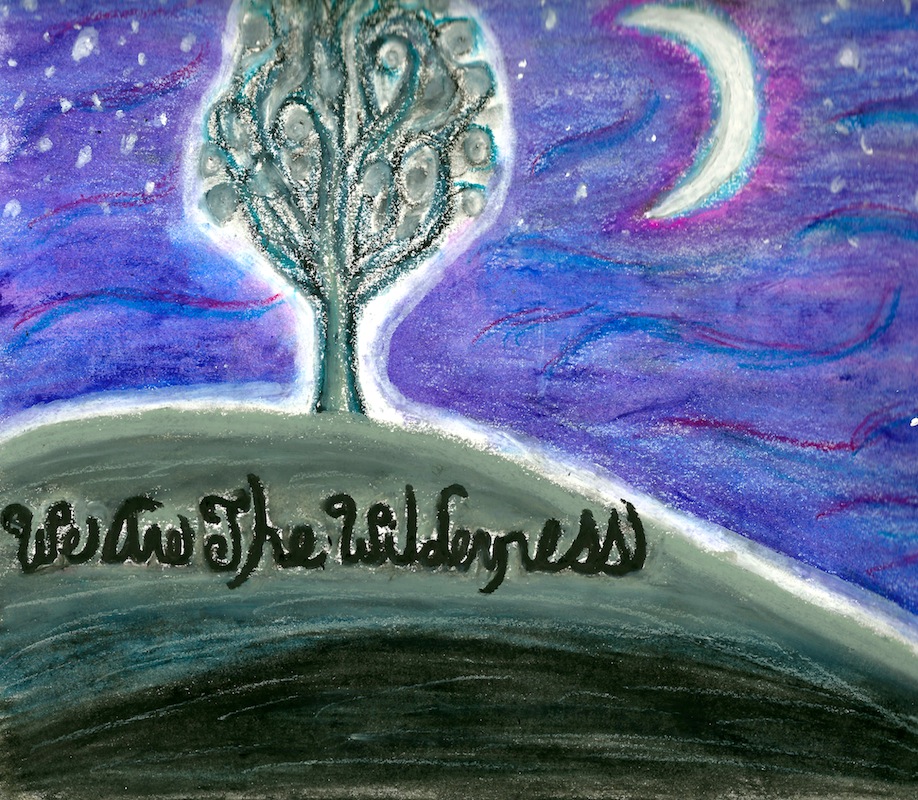 Shinobi is one of the pair's favorite Bushwick restaurants, it turns out. They both prefer the veggie ramen, and share the veggie dumplings as an appetizer. How adorable these two are, ordering the same dish.
Also heart warming is how the two have come to New York City together to help each other Live the Dream, as it were. Ryan and Shanda have known each other since high school. They both grew up in Amarillo, Texas and met while working at a dry cleaners, a place that was always hot and wreaked of chemicals. But they bonded over music.
They have all sorts of serious music making skills as well. Shanda took voice lessons in high school, and has a way with constructing a melody. Ryan studied composition in college. On the EP's four tracks, Shanda's voice weaves and flits through Ryan's deeply orchestrated atmospherics.
By day, Ryan composes and produces ad music, and Shanda instructs on matters of yoga and fitness. They also run a production company that creates incidental music, which small businesses can purchase for ads and marketing endeavors.
The two actually live deep in Bushwick, way over by Broadway and Myrtle, in those eastern parts still a little mysterious to us huddled around the Jefferson Street and Morgan Street stops of the L line.
So, what places do they like over yonder? The Lone Wolf, on 1089 Broadway, has an excellent atmosphere, they tell us. For good coffee, there's the Little Skips, near where Myrtle and Bushwick intersect. (Also, we've learned Little Skips has a barista known to spontaneously break out in dance. It makes no sense, but it sure makes awesome!)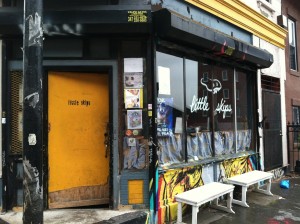 On the western side of Bushwick, a favorite hang-out of theirs is The Pinebox Rock Shop, off the Morgan Street L stop, which is canine friendly and hosts both trivia and karaoke nights–either of which you can sometimes catch them at.
Anyway, with the EP out now, they are working on a full length album. A video should be out shortly, shot in Bushwick, as well. Expect some live music gigs too–with just the two of them on stage.
They have also tasked themselves to post, every few weeks, a cover song on YouTube. With just piano and voice, they've offered a less weedy version of Bon Ivers' "Skinny Love," as seen above, as well as a slower, more soulful take on MSTRKRFT's "Heartbreaker":
Usually it takes them about a day to arrange, practice and record one of these YouTube performances. Occasionally they have to wait between takes for the street noise–or the Brooklyn Street Percussion Ensemble as they call it–to die back down.
But that's Bushwick for you: Never shy to offer input–whether you need it or not.
*Oddly enough, We Are Scientists don't seem to raise this question, maybe because of much of the human population's mistrust of all things sciencey.