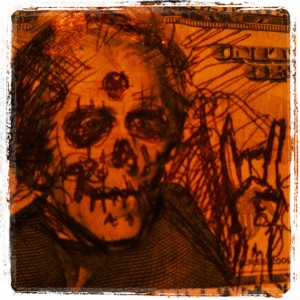 Like algae, corporations must keep expanding just in order to stay alive. So it probably seems to 7/11's kelp brain that, from across the East River, Brooklyn could be a fertile dig open for expansion. The chain plans to roll out more stores in the years to come, even offering bodega owners the option of rebranding their shops as 7/11 franchises.
Ha! Good luck with that! We're thinking 7/11 won't catch on here, in any way that threatens the bodegas at least, and for reasons other than Simple Hipster Distaste. Bodegas are just way more efficient at serving the hood.
Don't get me wrong: As a child of the burbs, I deeply appreciate 7/11's value proposition. It's open at 3 am when your drunken stomach grumbles for only a Frito Pie (FRITO PIE: Buy a $1 bag of Fritos, and douse liberally with the 7/11's complimentary cheese goo, along with relish, onions and other condiments from the fixins' bar). And whoever thinks the world doesn't need a 64-ounce Big Gulp of something obviously never worked roofing under a scorching summer sun. In the burbs, 7/11 easily laps supermarkets, which are hampered by their limited hours and tiresome rows of unprepared nutritional foodstuffs.
But 7/11 is a product of the burbs, where shelf space is plentiful and namebrand matters. In biz argot, when a 7/11 is licensed, the franchisee (and customers) pay for the name, and for the vague but fuzzily warm feeling that comes with the brand. Bodegas don't need, and can't afford, to cultivate an image. Quick: What is the name of your nearest bodega? There is no budget in a bodega for image. The competitive landscape is too cut-throat, for one. If one store tries to sell a delicious Diet Peach Snapple for $1.75, you can bet the one on the next block will sell it for $1.25.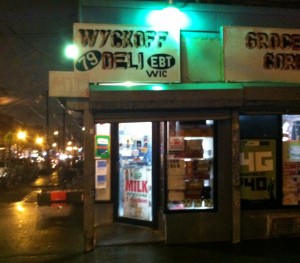 And bodegas can deliver, foot-by-square foot, a far more comprehensive shopping selection anyway. Could 7/11 squeeze even one of its expansive aisles of neatly-stacked power drinks and chips in a corner store?  So much wasted room on pointless impulse purchases! Now check: Is there any spare room at all in your corner bodega?
The typical 7/11 — a member of the world's largest franchise — is a product of marketing engineering, arranged to maximize profits for its Japanese Overlords and supporting shareholders, while providing convenience to a customer who doesn't mind the surcharge. A good bodega, while also profit driven, nonetheless acts more like an extension of the community itself.
As a result, Bodegas can anticipate your needs in a way that any corporate chain would be hard-pressed to match. If you require something, your Bodega probably has it, and maybe even at a relatively minimal cost. Cut your finger? My place once sold me a single band-aid — for 25 cents. The batteries go out on your thermostat? The bodega has a pack of two…for $1.25. Need a mess of ripe plantains? They are right by the door. Need a single smoke to cap off the night? If you're truly down with the Bodega folks, you can still score a loosie for a buck.
The average Bodega does things that would be difficult if not impossible to codify in any franchise book of rules n' best practices. My own bodega warms the milk to add to its dollar coffee — making it much more tasty. If, monetarily, your pockets come up a bit short — even for non-essential items like beer or blunts — pappy might extend to you a line of credit. He knows where you live, after all. What would the 7/11 guidebook say about that?
And what would the 7/11 guidebook have to say about bodega cats? Would they even be allowed? If not, what advice does it offer at keeping rats at bay? Chemicals? Bet the neighbors would appreciate that. And how is 7/11 even going to get those big-ass supply trucks down the street?
No, when it comes to replacing the Brooklyn's bodegas, just fuhgettaboutit 7/11.