(The following is a guest column from the house on 420 Melrose Street, following its evacuation last month after cracks appeared in its foundation due, apparently, to construction next door.)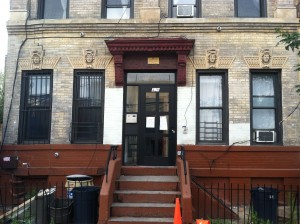 I came into this world like anyone else, the offspring of a stack of building permits and some raw construction materials. I never wanted to be anything but a good home for eight families. And I was doing just that until August 15th.
That's when the Fire Department of New York City and the Department of Buildings vacated those eight families and deemed me "unfit for habitation." Everyone keeps acting like it's my fault! I'm a building! Even more annoying, I don't know why after two weeks, nothing is getting fixed and my old residents are still homeless!
I am not the one who broke my foundation and cracked my own facing. Credit for that is due to someone else. However, I can't point a finger at any one person because it seems like a lot of people are to blame. Also, I don't have fingers.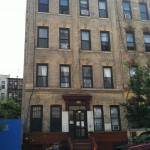 Originally, I was excited to learn that there would be a brand new building right next to me. A once empty lot would soon be the latest addition to the Ridgewood Bushwick Senior Citizen Council's collection of buildings. I was thinking I'm the luckiest apartment this side of Northeast Kingdom!
Sure, sure my residents were nervous about the construction but I was all like "No, no you guys, it's cooler than our window AC units!" The building was being built by an established company, Procida Construction, for a great local non-profit. It was a no-brainer! What could possibly go wrong?! As it turns out, I'm not just a building, I'm also an idiot.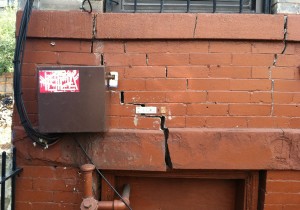 I suppose the fault for all this lies on a couple of people. There's the city building inspector who gave the site the a-ok just days before the vacate order was issued. There's the construction company that kept on digging until the cops blazed onto the scene and ordered them to stop.
And what about the landlord? I imagine in a neighborhood like this one, if he sold me, he could make a lot of money back. Hell, he could tear my insides out, go all Bionic Man on me, turn me into a fancy apartment building and jack up the rent.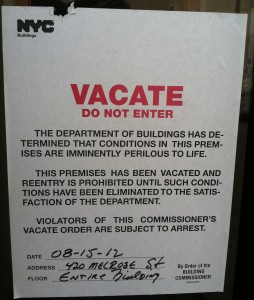 Of course, he can't do that with people inside. So maybe it's his fault these people are still waiting for repairs to begin. Maybe he's just waiting on them all to give up so he can throw their stuff out? I liked their stuff. I'm pretty sure they liked their stuff.
What's weird is how no one seems to want to talk to them, the residents. No one from Ridgewood Bushwick Senior Citizens Council has reached out with offers of support. No one from Procida has reached out to any of the residents. Even the damn building owner apparently seems too busy to ask if people have found alternate homes.
Oh yeah, the landlord did call to let them know they can get their security deposits back once they get their things out. But how are they supposed to get the rest of their things out if the city still thinks it's unsafe for movers to enter? I mean I guess people could sneak in and get their things. That's what some of the thieves that have robbed two of the apartments did.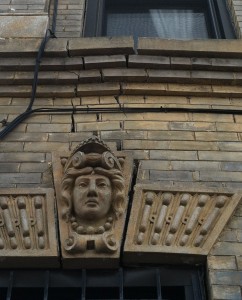 Oh, did I forget to mention that the landlord didn't secure the building? Strangers are getting inside of me and messing around! And not in a fun Eyes Wide Shut sex party way!
I guess these families are just supposed to figure this all out on their own. Makes sense I guess, since it looks like Procida, the building owner, and RBSCC are too busy dividing up who gets what cut of what insurance money. I can only guess that's what's going on because I am not getting repaired, that's for sure.
Look, I realize everyone is in a bit of a bind here. I hear the landlord yapping away about my mortgage and I know that construction on the original project is now backed up further than the line at Roberta's Pizza. But when are these residents gonna get some answers and some relief?
This isn't even about money for these people really. It's about progress and respect. I told you that all I ever wanted was to be an affordable home. And that's how the families that used to live here still see me. But it seems like to everyone else, I look like a four-story paycheck.
You can keep up with 420 Melrose's ongoing condition on Twitter.