So we heard a tip from someone who lives over on Beaver street about an excellent taco wagon usually parking  itself on Broadway and Stuyvesant, near the JMZ Myrtle stop.  The festively bright yellow Antojitos Mexicos, as its called, is usually parked somewhere not too far from Mr. Kiwis.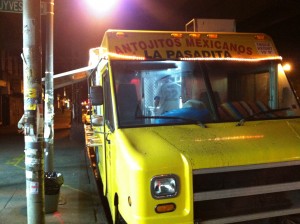 The truck usually shows up around 6:30 in the evening–though we hear from our source it can be infuriatingly late at times.  But it stays until 3 or 4 am each night, making it an excellent late night snack spot for the neighborhood.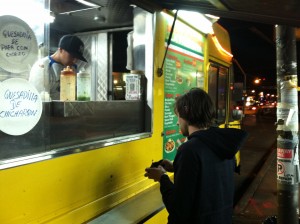 Tortas, quesadillas, cemitas, and huaraches are all offered, but we heard to go with the tacos ($2.50 each). You can get tacos with chicken, broiled or spicy pork, steak, al pastor, pig ears, sausage, beef tongue or–for the especially adventurous–goat.
For this visit, we stayed conservative and got a chicken taco and the spicy pork taco. Both were indeed excellent–fresh and topped with sliced radishes.