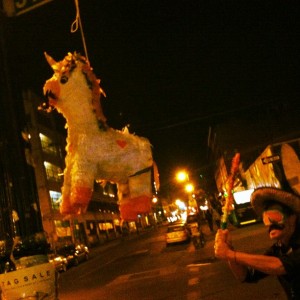 Friends, fellow drunks and passers-by: We've gathered here today to mourn the loss of Mazelle, which, until last Sunday, was our favorite drinking hole in Wyckoff Village.
After a little over a year of operation, Yuri closed the bar for good, selling the space to one of the guys who co-own Momo, who plans to open a sandwich shop there. He gave it up because, he said, serving food was too much of a headache..
We thought it may have been that he couldn't make his way serving $5 Modello-n-shots to ever-more boisterous drunks.
Trying to explain Mazelle's appeal is tricky. It is easier to say what Mazelle was not. Mazelle was not about the music–it largely relied on Pandora. Nor was it about the ambiance–it didn't even have heat. The food could be outstanding–we'll forever remember the dumplings–as long as you didn't mind the occasional one hour wait.
What made Mazelle so great, at least for us, were the regulars. Well, the regulars and the open-air windows.
Some of these patrons we'll only know as the friendly faces a few bar seats down; others are now friends for life.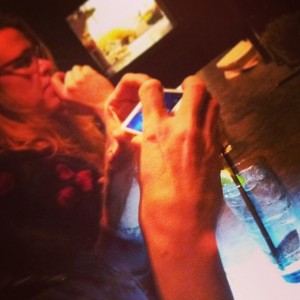 In almost any typical NYC watering hole, you'll meet many artistic hopefuls–the charismatic actor who wants to break into Broadway, but who is working at the Hard Rock Cafe until that happens.
But Mazelle attracted another sort: Creative souls who had already been to the edge of their talents, or to the brink of fame, and who returned bruised and dystopic.
It seemed at times as if everyone at Mazelle was hiding from something. There was a painter who burned his gifts with cocaine; a musician hiding out from a sizable reputation elsewhere. Ex-pats from as far away as Australia arriving under mysterious circumstances. An author of childrens' books and a culture jammer having a laugh at her latest exploit. Hard-traveling Satan-loving tattoo artists. Promoters and dealmakers on the lam from L.A., or from the law.
As one regular once said, "Being a genius is only the beginning of my problems."
And such people need drink, a respite from all the torment their hard-won knowledge brings. And if you were of a like mindset, you would find someone at Mazelle to kvetch with who was on your own wavelength.
And like any great neighborhood bar, you would find them there, not only on a weekend night, but (especially) on a Monday or Tuesday afternoon.
Sure, it wasn't the only neighborhood bar in town like that. But it was our bar like that.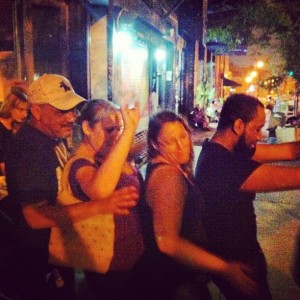 On Mazelle's last night, Sunday, many of the regulars gathered for a few, or more than a few, last drinks. The bar soon ran out of beer, then it ran out of drink mixers.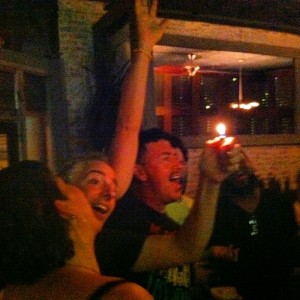 Still, the patrons spilled out on the sidewalk to do line dances in front of the ever watchful eyes of the cops parked on the corner. Or stumbled about to hug, or settle scores, with compatriots. We took off when people started dancing on the tables and on the bar, and when everyone started singing gustily along to Journey.
On that last night, a visibly relieved Yuri said he might start another bar, one without food. Then he said he might start a coffee shop instead; perhaps he could rent the space formerly occupied by Three Angels By The Park, also recently shuttered.
My favorite neighborhood bar closed on Sunday. I'm basically a man without a country at this point.
— Ryan Happy (@djbrig) September 4, 2013
Nostalgia aside, the pressing question now, of course, is where to drink?
The Bodega doesn't serve the spirits ("It attracts the wrong element"). Pearl's attracts too many of the wrong element, at least during the evenings (afternoons are still nice there). Some like Heavy Woods, though others still find it too vaguely generic. Mominette Restaurant is too French, and Cain's and Tandem are too far away.
We love the folks at Cobra, but its courtyard, with the barbed wire and tall concrete walls, makes us feels like we're drinking in a tiny prison yard. Though "How long you in for?" is always a good conversation opener.
Most of us, however, will simply scatter back into the night. Like Three Angels–or all too many other excellent things in Bushwick these days–Mazelle, and the community that grew around Mazelle, was amazing and yet all too transitory.