Kick This Keg: Founders Raspberry Ale, Bodega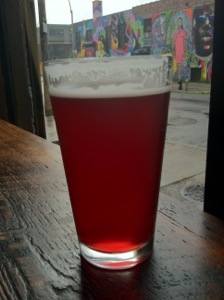 Labor Day weekend and everyone is out of town, the L was down, and Mazelle closed for good Sunday, so all in all a pretty dreary and occasional rain-filled weekend to bring a cool summer to a close.
One bright spot: the Bodega's Rubeaus Raspberry Ale on tap ($6 for 12oz, $5 per happy hour), which we've enjoyed quite a bit over the past few days, sometimes al fresco on Troutman street overlooking some of the latest street art from the Bushwick Collective.
The Bodgea usually has at least one really exceptional beer on draft at any given time and this may be our favorite yet.
The ale is effervescent and, as the name promises, has a pleasant taste of raspberry, making us feel nostalgic for the late summer bounties of freshly harvested fruit. It may be too sweet for some, but we didn't find it overly sugary–it is more hearty than the pear cider, also on tap. And at only 5.7 percent alcohol, Rubeaus is easy to down in a second or third glass.
The ale also goes really well with the Bodega's Pretzel PB&J, which comes with crunchy peanut butter, fig jam and honey on a pretzel roll ($6).
The Bodega is at 24 St. Nicholas Avenue, 646-924-8488.