From the Wood to the Wick: Karaoke From the Horse's Mouth
Last week's column got some interesting reactions, as I knew it would. My personal favorite was this response from a former blogger/ current Bushwick restaurant co-owner:

Which is funny because  I'm voting for Romney this year. Thanks for the RT, though!
Anyway, this week I figured I'd turn to someone else in a new feature in this column "From the Horse's Mouth." A good handful of the bars around Morgan and Jefferson do karaoke nights. Pine Box Rock Shop, Brooklyn Fire Proof come to mind, and I know Tandem has done it before as well.
I generally tend to opt for one of the following, depending on who I'm with: soul, country or hip hop. But doing hip hop karaoke is tricky, mainly because white people aren't allowed to say "nigger" if you're quoting a song. Then of course, there's also situations like where you're wasted and tell your friends you're gonna sing Biggie. Everyone assumes you're gonna do "Juicy" or "Big Poppa" but you do this instead and halfway through the first verse when you're singing "smack the bitch in the face," everyone looks at you like you're the Batman Killer from Colorado because that's what you look like. And of course you don't get laid that night.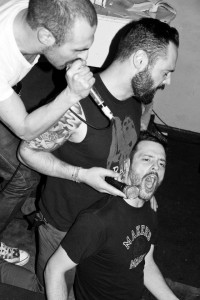 To get some advice straight from the horse's mouth, I turned to Rick Conti, who runs "My Sweet Karaoke" at The Living Room in the Lower East Side on Monday nights as well as at the Alligator Lounge on Sundays and Fridays. Rick's hosted karaoke and bingo events for years at bars all over Brooklyn and the Lower East Side, so I sat down and asked him a few questions.
What are some of the worst songs to sing?
Worst songs to sing? I throw a pretty high energy party and it always helps to sing stuff that's up-beat…unless you got the pipes for a ballad, stay away from Celine Dion or Etta James.
What are some of the most memorable messes on the mic you've seen?
I've seen the worst people sing the worst songs in the worst way…drunk and falling down, whisper quiet, loud and atonal…most recently a very crazy drunk girl (I'm not talking just tipsy, this chick was out of her mind) forgot to wear underwear and decided to roll around on the stage like Madonna in the 80's…she wasn't even singing a Madonna song.
What are your suggestions to guarantee a good time?
Drinking helps a lot. Go with a large group and don't ever bring a date to karaoke unless you both loooove singing.
Finally, any pieces of etiquette for folks to follow?
Don't be an asshole. I don't care if you can "sing this song the best and should be pushed to the front of the list." Tipping is amazing and kamikaze-ing your buddy that has no business or interest in signing is just a dick move. Having patience is key. When there is a room full of people behind you, don't think you're the only one who wants to sing.
Words to live by, Rick. Catch him at the Alligator Lounge this Friday night.
NOTES
Last weekend was bonkers in the hood. First off I checked out Secret Project Robot's 1 Year Anniversary in the neighborhood and saw the show. All the bands were awesome and kept my attention, which is admittedly hard to do. As fate had it, it turned out the older guy I was talking to was an art handler from the East Village who I remembered from an Ann Liv Young performance in an Orchard Street gallery where he made a young art school student cry. Once I pointed that out to him, we didn't talk as much after that…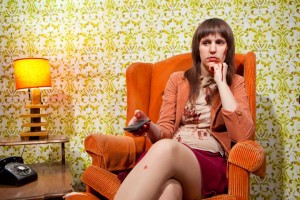 The next day I went to the Bushwick Film Festival over at Paperbox. Some dude I met at SPR told me how management at this venue treated his band like dicks, demanding 40 people in the venue before they received drink tickets. So I went anyway, because if you've been there once, you know it's not a DIY venue (which is fine) and some bands don't pull in that many people for a place to make money that evening.  I walked in halfway through an interesting panel discussion on directors and filmmaking, only to be asked to move in the middle of it by an event organizer. When I pointed out to her that the chair I was sitting in was not marked as "Reserved" she smiled and rubbed my back like you would a child, saying "I know." Anyway, Morgan Miller's animation "There's a Dead Crow Inside" was great, but Elizabeth J. Theis's "Killing Time With Lizzie Boredom" was fascinating and hilarious despite the event staff's snafus with their laptop. In all likelihood I'll go again next year.
This weekend is looking good for performance art- Marni Kotak has another opening at Microscope and there's also a "Performance Art Open Mic" at Panoply Performance Laboratory.  You may remember Marni as the artist who gave birth to a live audience last October.
Special thanks to Keely Kinkead for use of her camera over the past week.  Photos from Superchief Gallery's "Creepers" show (which is still up for view) should be up on Facebook this week, as well as photos from The Paris Review's panel discussion on the short story at Greenlight Bookstore from last week on Electric Literature.
The Billfold published a series of vignettes I wrote entitled "An Affordable, Safe Place to Live." Now you know why my sense of humor is pitch black.
In nomine patris, et filii, et spiritus sancti.