Too Many Bars: An Argument for A Moratorium on Liquor Licenses
Last week, Bushwick Daily ran an interesting piece on how 11 new bars and restaurants have opened in the neighborhood within the past six months. As someone who likes going out every weekend in the neighborhood (and occasionally during the week) you'd think that I would be all smiles.
I'm not.
Katarina Hybenova wrote "The question is whether the neighborhood really needs so many new bars" and this is truly food for thought. A day after this piece was published online, the Ridgewood Times Weekly ran an article "Is Bushwick Too Boozy?" about the last Community Board 4 meeting a week before, during which Public Safety Committee Chair Barbara Smith stated, "We have to put a cap on how many liquor licenses could be on one block."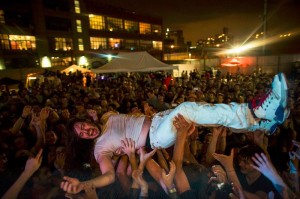 While Bushwick Daily's take discussed bars and restaurants (all of which have liquor licenses as well) that are largely patronized by newer arrivals to the neighborhood and visitors (as you could see firsthand during Roberta's Bushwick Block Party, which was hardly representative of the ENTIRE neighborhood) this is an issue that affects every resident, a majority of which do not count English as a first language. To give you an idea, the most recent figures place Bushwick's population at approximately 129,000 with the neighborhood's Latino population between 67 and 80 percent (depending on if you're looking at 2000 Census figures or the Fuman Center for Real Estate and Urban Policy's 2007 numbers).
Community Board 4's minutes backs this up. The most recently available minutes are for June's meeting (bureaucracy at it's most efficient, considering we're now in October) four requests were discussed at the Public Safety Committee meeting: Monteros Mexican Grill, Molasses Books, Bushwick Coffee House and Dinorah's Bar and Grill.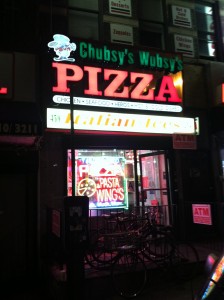 Upon further research, it looks like there was a clear ethnic divide among the businesses requesting licenses. We all know Molasses Books by now and I walked past Bushwick Coffee House as it was being constructed on Wilson Avenue, which after El Mio Cid and Cain's opened, has apparently become a good street for upscale bars such as Miles. Dinorah's Bar and Monteros are aimed at the Spanish speaking population.
While it might seem like, as Bushwick Daily summarizes, "most of these new establishment owners are seriously nice people who came to Bushwick to fulfill their life-long dream" (and it could be true) let's be realistic. The purpose of starting any business is to make a profit. And alcohol is a great way to do so, particularly in communities whose gentrification was paved by artists. See also: Williamsburg, the Lower East Side.
Which brings me to the negative effects. Smith brings up the old-fogey moral high ground with her quote "We have more wine and beer bodegas than there are churches and schools." And Hybenova speaks realistically, asking "how will all the new places influence the rents in the area…?" But there's more to it than that. The owners might be nice people, but they're also nice people who have to pay rent, wages and want to make bank themselves.
I'll be the first person to admit I was more than happy when Mama Joy's opened and advertised a $4 drink and shot special, but when it boils down to common sense, in the long run copious amounts of well liquor and Pabst Blue Ribbon aren't good for body, brain or soul. A lot of writers like to romanticize the classic alcoholic male writers like Hemingway or Bukowski. But have you seen the video of Bukowski kicking his soon-to-be fiancé. during an interview? Those men wrote, were drunks (and personally were miserable motherfuckers) and became famous. But for most artistic alcoholics, that doesn't happen, because you can't be productive for long if you're hungover or drunk on a regular basis.
What about noise? On Community Board 4's Requirements for New Establishments, it clearly states "We have found that business-related noise upsetting to neighbors can usually be traced to four main sources: insufficient sound-proofing or open doors/windows that allow music to be heard outside the business; late night operation of backyards, rooftops and terraces, patrons congregating in front of a business, often to smoke and honking of horns."
This isn't bullshit. Most backyards close at midnight, forcing people to go out front to smoke and Bushwick Car Service blares their horns outside, making a pretty penny from Thursday through Sunday nights, judging by the times I've been put on hold or told there were no cars immediately in the area.
But it's not only ourselves that we need to be worried about, because this affects our seeds too. A 2005 study by the Prevention Research Center showed that areas with more bars and drug possession incidents per 1,000 population have higher rates of child maltreatment. While we're long past the days of The Well, Greenpoint saw a 33 percent rise in drug arrests (a majority for heroin and weed) last year as Communty Board One prepared to vote on a moratorium on new liquor licenses as well. Anyone that's walked up Bedford Avenue and Manhattan Avenue four years ago and then went now would clearly see a change in the amount of businesses selling alcohol. One resident was quoted as saying "It's no different drugwise than it was three years ago. There seems to be a police crackdown because this is turning into a different kind of area–wealthier people are moving in."
Indeed. Art in Williamsburg has changed with many of the older galleries being forced out by rising rents, only to wind up here. Now on the weekends there's a plethora of European and Asian money, along with the Bridge and Tunnel crowd. Where will you go when you have the d.t.s, your child is crying from the whipping you gave him and you can no longer afford your rent because it's been raised three times and you haven't sold or made a painting in six months because you've been drunk every night? Ridgewood? Please. Don't.
So what's the answer? While the State Liquor Authority has the last word on granting licenses, last year CB1 proposed a moratorium. When bar owners fought back, the board compromised with new stipulations put in place in December of 2011. These rules targeted bars with outdoor areas: applicants who wanted outdoor space must have installed a full kitchen with sit-down food service. A January 22, 2012 article on Crains New York spoke about this and quoted several owners who said it was unfair to bars that were there longer, claiming they increased the neigborhood's economy.
While this might be partially true, do they live next to bars themselves? Having a full kitchen might help offset the problem of noise, but with the price of real estate, it certainly won't help our wallets. (Have you seen menu prices of any of the new restaurants?) I'm not a teetotaler in the least bit, but in my opinion, the best solution would be a temporary moratorium, say a year. Not only would it slow the increase of noise complaints, it would also help in slowing the increase in rents for the neighborhood. Today is the Public Safety Committee's meeting for the month of October. If you're interested in attending, the time and location are available by calling the CB4 office at (718) 628-8400 .
NOTES
This past weekend was the New York Art Book Fair at PS1 in Long Island City. I went on both days (look for my piece in Superchief this week on Unpiano Books there) and it was, as usual, completely overwhelming. The best was the room full of old pulp fiction and porno novels from the 50's and 60's. I also scooped up Heather Benjamin's Sad Sex book, which was just released by Desert Island (yes the store on Grand Street.)
On November 16 at BAM Cinematek, Tim Heidecker will be there to do a Q & A for the new movie "The Comedy," about an aging hipster in Williamsburg searching for human connections upon his father's death. Below is the trailer, I watched it 50 times in a row (while sober.) If you missed it at Rooftop Films in June, go to this. I read a comment on a blog post that hypothesized on Tim and Eric's work coming from anger and hostility and I have to agree. If you ever watched their show or the movie they did, you can compare it to some of the greatest punk rock, which can't even be pigeonholed as such. As Keith Morris (from OFF! and the Circle Jerks) said, "I'm just angry, and I'm pissed off."
It saddens me to report that Terence Connor, the drummer from Total Slacker, died in a hit and run accident yesterday. RIP A neighborhood talent gone way too soon…
Got a new iPhone 5? Awesome! You're a prime target. Five years ago when I had an iPod, I worked next to two different projects in Boston's South End (another hood that got gentrified) and switched out the earbuds for cheap foam headphones. Be smart. Don't take it out on the train, or at night by yourself.
This is E. Nelson reminding you to have your partners spayed or neutered.