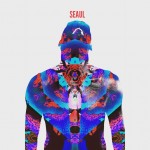 Welcome to Arts & Eats, a new video column where we break bread with a Bushwick artist, at a Bushwick restaurant.
Come Friday, Bushwick multimedia-minded Seaul will be hosting a pop-up show of his art at a sweet location overlooking the Manhattan Bridge.
So, because Seaul couldn't possibly be busy enough now, we invited him out for ribs and smokey bloody marys at The Shop, a new-ish and surprisingly voluminous Austin-y "Bikes/Bands/Beer/BBQ" joint tucked into Troutman, round from Wyckoff.
Check out what we learned about Seaul, his art, and the highly-touted Texas BBQ…
RSVP here for the pop-up show.
Seaul came to painting by way of a dream. He woke up, went home, and took some spray cans to a canvas, recreating what he had witnessed in his sleep. He's been painting ever since, and that first piece remains his favorite.
He also writes his own poetry. The words are part of his process to create the art–they help him better understand the state of mind he's in.
Oh, and about the Shop: We also tried the home made beans and pork sausage–A dish better suited for the person who can't handle spicy or is trying to keep it clean. Together, the beans and pork were great. But, alone, the beans were spicy and the pork was very mild.
The ribs, in contrast, are hands-on and extremely messy, but delicious (as seen in video).
Also, more sauces would be great, Hoss!