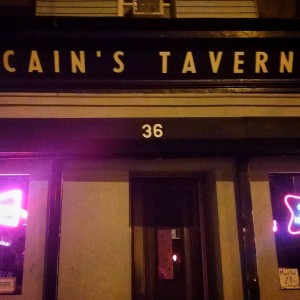 Last Call: If you're on the Cain's drink board, you better come and collect your benefactor's generosity by Saturday night. When the sun rises on Aug 23, Cain's will be no more.
Those who lived around the Flushing/Wilson part of Bushwick, and were favorably inclined towards drink, probably found their way to Cain's at one point or another. Cain's didn't find you; you found Cain's. It never chased the dollars of the Manhattan visitor. We don't think more than 30 people could comfortably drink in that place anyway.
This, from our Wilson Street correspondent Trish:
The waters of Cain's Tavern felt just right, so I dove right on in headfirst. I had been looking for a watering hole since I left Texas years ago. Ice cold Tecates, spicy pickleback shots and a corner seat of that beautiful piece of wood that felt more like an extension of my living room.

I laughed at that bar, rolled dice on that bar with the regular fellows, and even was proposed to right outside of the front door!

Cain's Tavern you opened your door to me when I needed you and my life has become more enriched through your generosity, camaraderie and succulent libations! Cheers!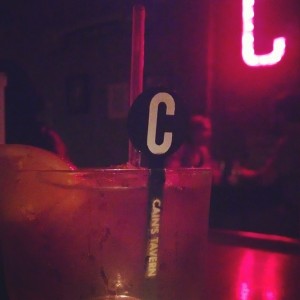 Cain's didn't try too hard at fancy drinks (Cain's Cup we hardly knew ya), and you could bring in your own food, if you didn't care for the Slim Jims or chips on the menu.
But at Cain's you could buy friends drinks even if they weren't there. You'd purchase the whiskey, and Doug, or whoever the barkeep was that night, would scribble your friend's name and the drink he or she had coming on a chalkboard. It stayed up until the drink was collected.
Try THAT at Union Pool.
August 23 UPDATE: Here are some photos from Cain's last hour: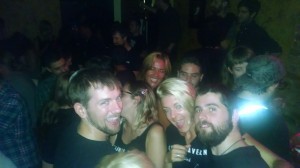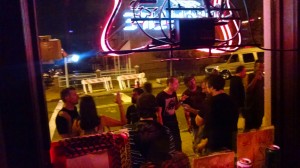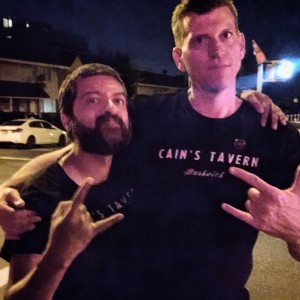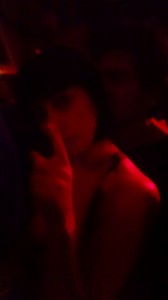 Last call, fer realz…

#RIPCain's….