Banksy Who? Low Brow Serves a Baker's Dozen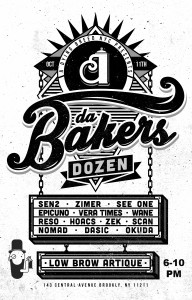 While Banksy kept NYers running about town searching for street art, Bishop 203 and  A Dying Breed curated works from some of the best local talent, the results of which could easily be spotted in Bushwick's Low Brow Artique.
While having no overarching theme per se, "Baker's Dozen" offered 13 works that bridged the divide between street art and pop art in consistently surprising and delightful ways. Among the luminary represented were See One, Vera Times, Sen2, and Dasic. And though the prices for some inched into the thousands (The jaw-droppingly colorful Dasic listed for $4,000), prints were available of almost all the works (except Ha! Dasic's).