Bushwick artist Joey Parlett has a varied and innovative work, one that speaks of a mind working on all cylinders. Constantly questioning and experimenting, he has so many ideas, he had to invent a drawing machine to try them all…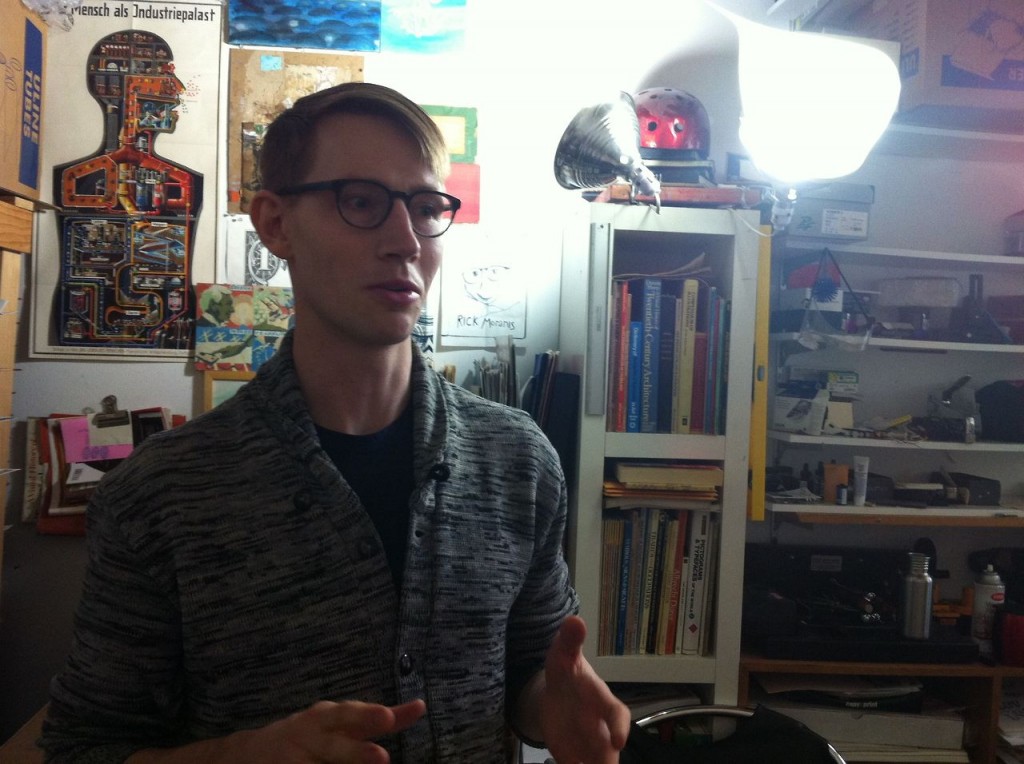 What brought you to drawing? Was it something that you always wanted to do?
Joey Parlett: I remember looking at Highlights magazine when I was about 10 or so, and always jumping to the back to see what people drew and how old they were—pretty much what I do on the internet today. I played drums in high school, but I didn't draw a whole lot. I basically learned I didn't always want to be creative within a group after playing in bands for a while. I started painting with acrylic in college.
I had this amazing illustration teacher, Jerry Kalback, who encouraged a sort of abstract expressive approach to art making. He really got me motivated to make a whole bunch of work. I came to drawing the way I do today from being a compulsive sketchbook-keeper and from being pushed by Phong Bui of the Brooklyn Rail to take it more seriously in 2008.
At that point I started to think about it as a real thing as opposed to something I only did when I felt like it. That's when I started to make my timesheets and be more diligent about my practice. I didn't quite set out to be a drawing-only guy, but it made sense after I realized I really didn't want to paint.
Wow, Phong Bui of the Brooklyn Rail! What great encouragement! How did that come about?
Parlett: My friends Amy Mees and Mark Wagner curated a small show of my drawings at Champion Coffee in Greenpoint around May of 2008. The coffee shop is close to the Brooklyn Rail studio, and Phong saw the show. He purchased a couple drawings, and when I dropped them off he was kind enough to show me around and offer some encouragement.
His advice about working daily really stuck with me. Seeing the studio and his work environment was a new experience. I had not visited many artist studios then, so it was amazing to glimpse into a lifestyle that was so unfamiliar. Coming from the midwest, I didn't know any artists over 30 [who] weren't professors.
Can you talk a little bit about what goes in your sketchbook? How do you use it?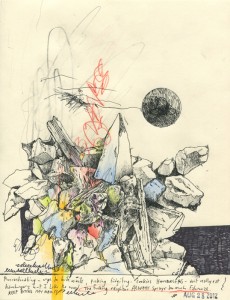 Parlett: I use it for ink doodles, experiments, abstract comics, small life drawings, loose concepts for larger works, notes about dreams, diary-like doodles, and picture notes about what I ate that day. I'd like to get some collage and gouache painting in there too.
What do you like about drawing versus painting?
Parlett: There is something immediate and intimate about drawing that I find satisfying. I think it might be the limitations too. I like the simplicity of creating images with one or two colors or tools.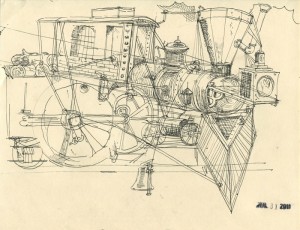 Your work branches off in several directions (unsettling portraits, intricate landscapes, abstract spacescapes, and so on). Do you see these as being individual ideas or is there a common impulse behind them?
Parlett: I usually have some sort of idea or question I ask myself before I start a drawing. The question or idea comes from what I liked in previous work, or from my sketchbooks. Some example questions I ask are, "What would all of the astronauts look like as one person?" or "What if this landscape branched off and distorted into a more abstract state?" or "What if I made this small doodle 30 times larger?"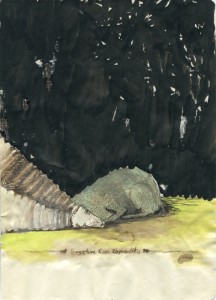 Much of the multiple directions stem from this type of questioning. I really enjoy experimenting — it always leads to new ideas that get me really motivated. I seek the new, but I also really enjoy repetition. I'll see a part of another drawing that seems more successful and try to evolve that section into something else. I try to work in series so each idea has been considered for more than just one or two pieces.
I've had this problem lately where the process is really slow, and there are a lot of things I want to test, so recently I made a drawing machine. It is more or less a mechanical mark-making tool that works much faster than my hand, but I can use it like a normal pen. It works great. I really thought it wasn't going to work so when it did I was a little scared. I thought "Wow, this is terrific! What can little ole me do with this crazy fun thing?" I need to play with it more, but I can see a body of work that will grow just from that process.
So simply put, questions and experiments drive my work. I guess the common impulse is really experimenting, a need to get energy from being alone, and a compulsion to keep making new things.
What kind of art do you look at?
Parlett: It's all over the place but pretty limited to painting and drawing. I love the work of Pieter Bruegel the Elder, Peter Saul, Saul Steinberg, Casper David Frederick, Mark Bell, Robert Crumb, Robyn O'Neil, Dawn Clements, Joan Linder, Martin Wilner, Tony Fitzpatrick, Mark Wagner, Sylvia Plimack Mangold, Vija Celmins, Russell Crotty, Aaron Morse and Bruce Connor. I love pen and ink illustrators like Alan E. Cober, Murray Tinkleman, and Jack Unruh.
In the graphic arts I'll always have a place for Seymour Chwast, Milton Glaser, and 1970's polish poster artists like Jan Lenica. I've recently been looking at people who work in graphite. I'm testing that out in some new pieces. I saw a show at the Flag Art Foundation of Tom Molloy who makes conceptual, careful, detailed small graphite drawings which I think are mostly from photographs. Also Karl Haendel, who makes large graphite images that look just like photos. I've been keeping a book of Thomas Nozkowski's work around my studio; I'm trying to see how something that I don't normally look at or think about might have an effect on the feeling of new work.
What challenges you most as an artist?
Parlett: I have a hang up that I didn't go to ART school but went instead to DESIGN school. I don't think its a huge deal because the creative world is so multifaceted, but it is something I think about often. I keep thinking I missed out on some secret information that ART kids learned in college that I maybe missed out on.
I also like to branch off in different directions, so I try to work in series so the body of work doesn't look too schizophrenic. I struggle with wanting to try a whole bunch of different things versus really getting into one direction for a while. I wrestle with the normal stuff like asking myself if the work is even successful. I try to make sure I'm being honest with the work, and I constantly ask myself if I'm doing what I really want to do. I've been trying to make sure I really look at what I'm making and see if there is something I'm missing or some connection I haven't made yet.
I don't enjoy gallery openings. I'm ok and can go to them, but I find them exhausting. Even when I'm in the show it's really tough. It's something I'm working on, but it's definitely not my favorite. The business side of making art can also be a challenge. I think it's hard for a lot of people, but keeping up with sending work out, refining my artist statement, trying to consider where the work will fit into the world and who might be willing to show it, and where I might like to show it are all constant challenges. I think the artist statement is perhaps the most difficult thing for me. I'm in the process of making a new one, and it's so incredibly difficult to avoid "art speak" and create a clear, honest, strong statement that isn't a cliche.
Alone time is so important. There's a lot of pressure to be social and for the business end of things it's somewhat necessary, but I've always thought that to produce quality work you need to be a bit of a loner. Do you agree?
Parlett: I agree. I get a lot of energy from being alone, if I'm not alone at a certain point in the day its physically and mentally draining for me. My studio is where I can stop thinking about the outside world for a little while. I think its important to let the noise of everyday life tone down and allow your mind to wander.
Do you find that your background in design versus art affects your work?
Parlett: Yes. I find design thinking fun. I love when a creative idea can effectively communicate or solve a specific problem. I think it helps me distance myself from ideas. Each idea isn't always a precious gem. I think creatively for my job so I get bad ideas all the time. It really encourages experimentation, moving forward and editing. When I'm stuck on something for a client I don't have a choice to stop and wait. I find answers in my design work the same way I do with my drawings, by experimenting and spending time with the work.
What's next for you?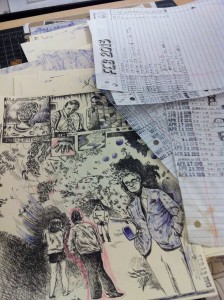 Parlett: I have a handful of new graphite drawings that I'm excited to show during Bushwick Open Studios. I'll also have two zines that will be out by the end of May. One zine is of my timesheets from last year, and the other is of smaller drawings that I've been keeping for the past six months. I'm running the Brooklyn Half Marathon in mid May. I've done it the past couple of years and had a terrific experience both times. Running with a large mass of people as far as you can see ahead of you is humbling and energizing. I'm looking forward to getting out of the city a little this summer, and I'm taking a trip to Utah in early September.
(This Q&A  first appeared on Delphine Amato's blog And Freedom For.)