Remember when? For me, that would be me, teenage Astro, turning off the Nimitz Freeway in Northern California, singing along in full voice to the pop punk refrain in my Mom's 98 Nissan minivan, more reminiscent of a pair of unflattering mommy jeans than the sexy vintage piece of trash my high school band BF rolled around in deep. Anyways, it gets caught in my head from time to time.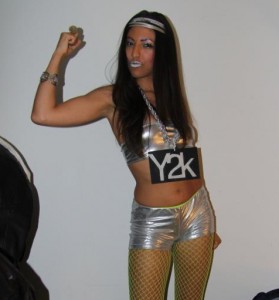 Is 2002 too soon? Shit, I was the Year 2000 last year for Halloween. My plan was silver lamé, silver mylar for warmth (it retains 90 percent of your body heat without compromising your ensemble), and a silver doobie chain with a DIY "Y2K" attached.
Weaving through the claustrophobic crowds on W4th street on that 31st, I cried out, "I just want to party like its 1999!" This was followed by a high five and another "I THINK WE ARE GOING TO BE OK FOR 2012!" The latter succeeded a humored roar and cheers of agreement. It was a popular Halloween for Astro.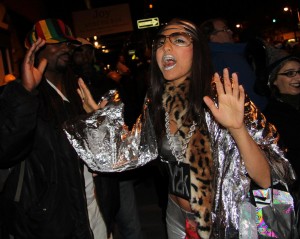 "Astro is too soon!" said my 41 year old veteran house head DJ promoter and roommate CL when I decided to take on this alternative name. The kitchen walls of our industrial loft we shared with three others plus girl friends and one bathroom are covered with flyers from 1993 to 2006. Apparently, Astro was not only the name of the Jetson's dog, but also it was a moniker of  the early millennium rave scene caricature. Usually they were depicted as 3D bubble-esque robot boys and girls.
But hold on…millennium? Early 2000 I remember the quandary back then, what the hell do you call the period from 2000-2007? Early two-thousands? Come on post club kids, you can do better than that!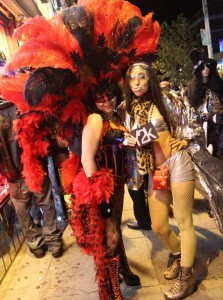 Yea, our gen y or whatever you call it is nodding off our drugged 90s grunge and donning matching girl and boy band outfits. We are most likely going to crimp our hair and coordinate dance moves to break out at a party, genie-in-a-bottle style. Holler at Zenon, Girl of the 21st Century, I definitely want to be your Supernova Girl. In fact, I took an OkCupid date to a secret science club meeting about black holes last night. He was impressed.
So everyone take out your Darrin Henson DVD and pull out your NOW CDs #1-5, 2013 is going to go back a teenage thirteen years. DO YOU THINK YOU'RE READY FOR THIS JELLY?–Adriana