From the Wood to the Wick: Celebrities(y) in the Hood
So as promised last week, this week I wanted to talk about celebrities in the hood. About a year or two ago it was reported that Michel Gondry moved to "East Williamsburg." At first I thought "I'm guessing this is really Bushwick" but no, he bought a house on Orient Avenue, near the Graham stop, which is really not Bushwick. At. All.
A few famous folks are from the neighborhood, most of them dead. You can just wikipedia the neighborhood if you care at all about that. No, this is about my encounter with a celebrity in actual Bushwick . I've had a few run-ins with public figures before.  I met Frank Vincent, who you may remember as Phil Leotardo in The Sopranos and Billy Batts (the guy who gets his ass beaten to death in Goodfellas) while I was working as a shift supervisor at a Petco in Jersey. This being North Jersey, every Italian girl (which was 80% of the customer base) swarmed him and started calling their mothers on their Blackberries. But while his wife was pleasant, he played the role of "smug prick" until I gathered my stock crew in front of the store after he left where I yelled at him to go get his shine box as he got into a used Mercedes in the parking lot. He was too embarrassed to say anything and drove off.
Anyway, this time, the celebrity was much nicer and friendly (to our faces). In fact, the circumstances surrounding our chance meeting proved to be more interesting than the five seconds I saw and spoke to him….
As the last event of the summer art series "Yr Friday Nite" I organized at Brooklyn Fire Proof with Mike Lala (A title of which I admittedly came up with if you want to send hate mail) began with a performance by Ann Liv Young, it was already a surreal evening. People's feelings got hurt, a woman cocked her fist back to swing (she didn't) at someone, and the crowd was amazed/stunned/etc. We also were lucky enough to have a Reyka vodka open bar thanks to Seva Granik and Rebecca Smeyne (who just got featured in The L Magazine, word.) This was all before the writers got on the mic.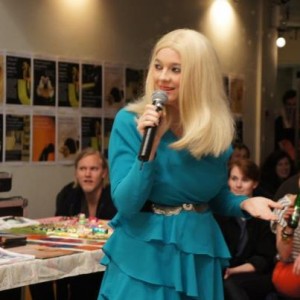 During an intermission that I spent trying to maintain in the backyard after I was fed (or got greedy for, really ) copious amounts of gin, my best pal approached me.
"Hey, Patton Oswalt is here."
"Get the fuck out of here. That's a good trick because it's not a well-known celebrity, but you're pulling my leg," I replied.
"No, I'm serious, he's sitting over there," he said pointing to a small table next to the door.
"I just met him, I said I liked him in Big Fan,"  he continued.
"Fine, show me."
Lo and behold, there, seated with a friend and not wanting to be bothered, was Patton Oswalt. And I of course, made myself and (by association) my best friend appear intelligent. While most New Yorkers give celebrities space and choose not to disturb their personal time and space, I took the high road.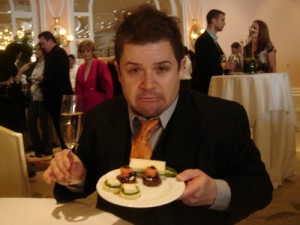 "OH MY GOD! YO, OH MAN, I LOVED YOU WHEN MY MOM USED TO MAKE ME WATCH "KING OF QUEENS!!"
Because I'm sure that's what a prolific, talented comedian wants to be honored and remembered for: a supporting role on a mediocre sitcom. (Disclosure: My mom never "made" me watch it, I actually liked the show a lot. She thought a fat pushover delivery driver would never be married to a mean girl with a hard body. But we both loved Jerry Stiller as does everyone on the Planet Earth.)
"Oh, thank you," he replied. The man had grace.
But another friend, a female, showed me up after I told her who was sharing the courtyard with us.
"INDIAN WRESTLE ME!" she shouted, blocking his way into the bar.
"Mmm, I'd love to, but I'm afraid I have an early flight tomorrow. Another time," he replied. Like I said, the man was all class.
None of us bothered him after. Months later, friends saw and said hello to Thurston Moore at the Stain of Poetry Reading Series at Goodbye Blue Monday, but I wasn't there. While we joked about it for the rest of the night (and days to come) none of us had the last laugh. No, that belonged to the Internet and Mr. Oswalt, as he wrote a tweet less than an hour after we all introduced ourselves in our own ways.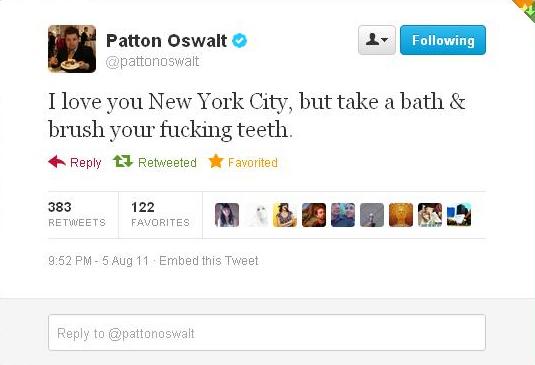 NOTES
I spent last Saturday in the Station North section of Baltimore for the 7th Annual DIY Fest, teaching a zine workshop. (Special thanks to the organizers who got my powerpoint working on the projector due to my technical ignorance.) As I always make it a point to drink $1 Natty Bohs at iBar on Maryland Avenue, I was graced by God and got there and back with way more downtime than I expected. So of course I checked out a few other places in addition. I skipped over street art last week and when I saw the wheatpastings on Charles Street, I almost wished I had an iPhone5 to Instagram the shit out of it all before a crackhead would run up and grab it out of my hands. If you're bored here and have balls (I don't) move down there. You'll clean up well if you're not stupid and MICA recently reopened a Graduate Studios Center on West North Avenue. In the seven or so times I've gone to the neighborhood, I've had everything from people screaming "Die hipster scum!" from cars (some white guy in a Jeep on a Sunday AM) to friendly public school teachers inviting us into their hoarder rowhouse to multiple buybacks at the bar, all amidst streets and alleys that to any suburban-raised WhiteBread are scarier than when Ghostface Killah wore a bandana over his face and swung machetes in the "M.E.T.H.O.D. Man" video.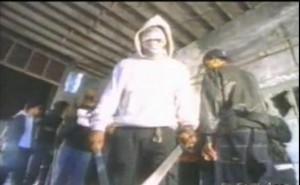 Baltimore, you're badass and friendly as fuck. I salute you.
I finished this week's column right as I caught a real nasty cold because that's how I roll so ESAD, ha! (That's the punk rock version of YOLO, except that kids wrote it on bill-flipped painters hats that they rocked with flannels when What Happens Next? brought back thrash. See also: bad inner lip tattoos. When I typed in "ESAD tattoo" into my google search bar, the first phrase based on my searching history to pop up underneath was "Butterfly Kisses." Umm…)
MORE DISCLOSURE: Just realized I've been interning for Ann Liv Young for almost a year, acting as bodyguard/merch boy. Holy fuck, time flies. (And Santa Clause is real and will tell you to leave if you're naughty.)
Shit, I just used up all my "NOTES" space.
Next week: "To Live and Date in Brooklyn" or "I'm Not a Player I Fuck Up a Lot." Because everyone gets a kick out of seeing a 10 lb sack of shit in a 5lb bag leak all over the place.